On July 1, 2023, a significant shift will occur in the towing and storage industry in Ontario, Canada. Phase 2 of The Towing & Storage Safety and Enforcement Act, a comprehensive piece of legislation, will come into effect.  
---
Ontario's Towing & Storage Safety Act: A Guide to 'Phase Two' Revisions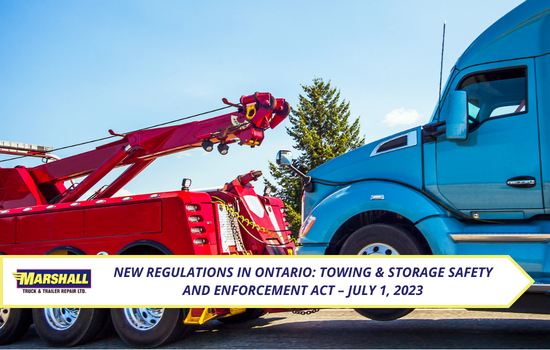 The changes that come into effect on July 1, 2023, will bring a host of regulations aimed at improving safety, transparency, and accountability within the industry. In this blog, we'll delve into the key aspects of phase two of the Towing & Storage Safety and Enforcement Act and its implications for both consumers and towing service providers.
Why the Need for Change?
Before the implementation of the Towing & Storage Safety and Enforcement Act, the towing industry in Ontario faced numerous challenges. Reports of dishonest practices, exorbitant fees, and accidents involving tow trucks had become increasingly common. Recognizing the need to protect consumers and ensure the safety of all road users, the Ontario government took action.
Key Regulations and Provisions
Licensing and Training: Perhaps one of the most significant changes brought about by the act is the requirement for tow truck operators to be licensed and undergo mandatory training. This move aims to professionalize the industry and ensure that operators are well-equipped to handle towing operations safely.
Fee Regulation: The act introduces a fee structure that towing companies must adhere to, preventing price gouging and ensuring that consumers are charged fairly for services. Transparent pricing is crucial to protect consumers from unexpected and unreasonable charges.
Consumer Protections: The act mandates clear contracts and invoices for all towing services. Consumers now have the right to receive an itemized invoice detailing all charges. This increased transparency prevents hidden fees and ensures that consumers can make informed decisions.
Towing Zones: The act introduces the concept of "towing zones" to prevent unauthorized towing. Only licensed tow truck operators are allowed to provide services within these designated areas, reducing the risk of predatory towing practices.
Accountability and Reporting: Tow truck operators are now required to maintain detailed records of their operations. This includes information on tows, vehicle storage, and any accidents or incidents that occur during towing. This increased accountability helps monitor industry practices and ensure compliance.
Safety Measures: Safety is a paramount concern in the towing industry. The act outlines specific safety requirements for tow trucks, such as proper lighting, signage, and equipment maintenance. These measures help reduce the risk of accidents and ensure the safety of tow truck operators and other road users.
Implications for Consumers
For consumers in Ontario, these new regulations bring a sense of security and peace of mind when they require towing services. Clear pricing, professional operators, and the ability to verify licensing and credentials all contribute to a safer and more transparent experience. 
Implications for Towing Service Providers
While the Towing & Storage Safety and Enforcement Act imposes new regulations and requirements on towing companies, it also offers opportunities for those who are committed to providing quality services. Licensed operators with well-trained staff can now distinguish themselves in the market by offering transparency, professionalism, and adherence to safety standards.
As the industry adapts to these new regulations, it is expected that towing services in Ontario will become more reliable, and transparent. The final updates to this act will be effective January 1, 2024, be sure to come back for the latest information on phase three here.
Phase two of The Towing & Storage Safety and Enforcement Act marks a significant step forward in improving the towing and storage industry in Ontario, Canada. By addressing longstanding issues related to safety, transparency, and accountability, the act benefits both consumers and towing service providers, making everyone safer on the road.